I've received lots of questions about my hair recently so I thought I'd share my hair routine and how I style it as well as little hair secrets I've picked up along the way. So this is for the hair obsessed out there ;)
The top secret to full and fabulous hair is to stop highlighting and colouring your hair, maybe not a secret, but it really damages your hair far more that you're aware. Highlights kill your hair more than anything in the chemical process! Two years ago I stopped highlighting my hair and it has made such a dramatic difference. Not only does my hair feel much healthier, but it's also much thicker as well due to less breakage. I also avoid brushing the hair while wet as the hair is much more prone to breaking while wet.
Equally important is treating your hair with moisture and proteins, and let's not forget the scalp as an unhealthy scalp won't produce as healthy hair as a happy scalp. My favourite hair treatments are:
Kerastase Forcintense – HERE // Philip Kingsley Elastiziser - HERE // Kérastase Masquintense - HERE // Philip Kingsley Stimulating Scalp Mask - HERE
I use the Forcintense about every 2 weeks, Elastisizer and Scalp Mask before every hair wash and Masquintense after every shampooing. When shampooing I only wash the scalp and top half of hair to avoid stripping the lengths of moisture, I learnt that from an article I read about Gisele Bundchen years ago. Oh, while we're on about celebrity hair routines, Jennifer Lopez sleeps with the hair mask overnight to get maximum moisture. Personally I find my hair becomes a little heavy for my fine scandinavian hair type, but if you have thicker hair it's probably great.
As for styling I'm too vain to stay off all electrical tools, but avoiding them completely will mean you don't dry out your hair and the result of that is soft and healthy hair. I manage to stay away from the worst kinds, which are curling irons and flat iron, and only cheat with a hot air styler once or twice a week or every second hair wash. Before that I prep my hair with:
Kérastase Ciment Thermique – HERE // John M Organics scalp toner and volumiser – HERE // Moroccan Oil – HERE
The Ciment Thermique is actually a heat activating mask and it makes the hair incredibly soft once the hot air styler has brushed through. I could never survive without this. The Scalp Toner helps my hair grow faster and keep my scalp happy through the day. Moroccan oil is the last finishing touch to give the locks that lustrous shine at the same time as it protects the hair and holds moisture in. I like to squeeze it in to the hair rather than swiping it through.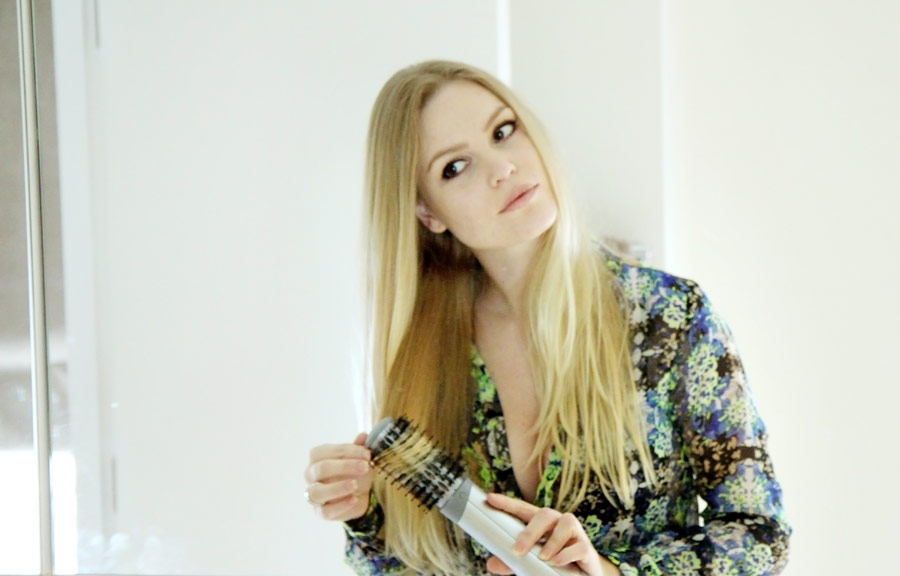 I forgot my beloved hot air styler in Monaco so I went to Boots to find something similar and it works ok, but I prefer the previous one which can be found here.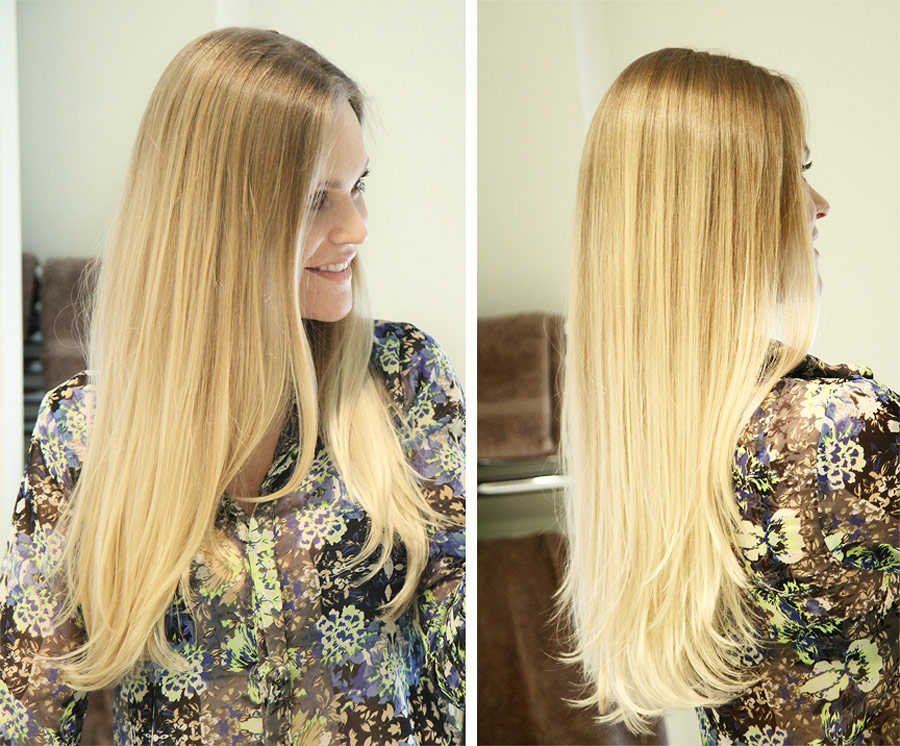 And that's all folks. Btw, did you notice the incredibly beautiful blouse I'm wearing today? I'm completely obsessed about it and I can't believe how cheap it was! Because I'm so in love with it I'm just going to assume you are too and I'm going to beat you to it before you ask where it's from – you can find it here. It's almost a pity wearing the hair down because the back is my favourite part, whispering little songs of spring ♥
Hope you found the post useful and that you're enjoying your weekend :) xx