Knowing I would probably only have time to do one makeup tutorial before Christmas I knew it had to be smokey eyes as it's my favourite look for late winter nights. I find smokey eye inspiration in the red carpet looks of Angelina Jolie, Keira Knightly, Kristen Stewart and Heidi Klum as I think all these beautiful women always nail the smokey eye look in a way that makes them look both graceful and sexy, as opposed to the much dreaded post bedroom look many people seem to think smokey eyes is.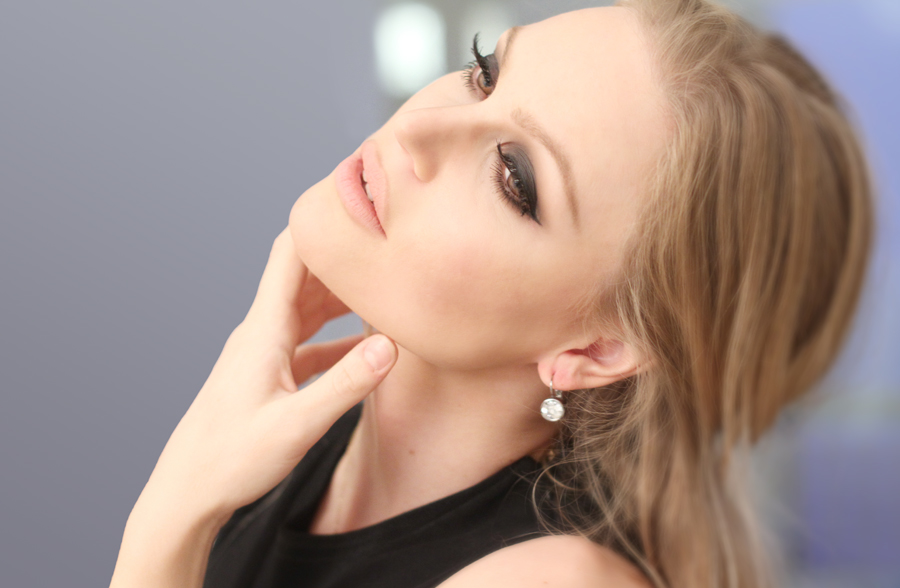 Smokey eyes step by step:
1. Start with applying an eyeshadow primer to make sure the shadow will stay put all night. Follow up with applying a base shadow in the same shade as your skin all over the lid and under, avoiding the area just above your upper lash line. If you don't have a matte shadow in the same shade as your skin you can also use a face powder.
2. Apply a black cream base on the lower part of the eye lid concentrating on the lower part and slightly smudging it upwards. No need to be neat, we'll go over it later. If you don't have a black cream base an eyeliner will do just fine.

3. Grab a black, dark grey or dark brown shadow and blend the smudged part of the cream eye shadow upwards. Don't use too much shadow, it's better to apply little by little to avoid using too much.
4. Use the lightest shade of brown you have and blend it into the black using a window wiping motion, when well blended into the black you can blend it upwards just above the socket line. If you feel the need for more shadow on the lid, this is when you should apply it. The light shade of brown will create a beautiful transition as it mixes with the black and then fades out in its own light shade.

5. Use the same light brown shade underneath the eye to give the eye more of a somewhat rounder shape as this will make your eyes look bigger and more smokey.
6. Line your upper lash line with a liquid or gel liner, and wing it out and up towards the end of your brow. Apply some black shadow on top of the liner to make it matte, this will also make it stay put longer. To give an illusion of bigger and brighter eyes you can apply a small dot of a light shimmer eyeshadow by the tear duct. Apply lashes if you want, and finish off with mascara.

I kept my skin matte using a matte bronzer and a matte blush, I also paired the look with a nude lip as I think that looks best with the smokey eye.
Products I recommend for the smokey eye look:
High quality brushes are a must for blending, these brushes are great and the price is not too bad either – get the kit here // A good shade for sculpting is a necessity for beautiful cheekbones and I LOVE this product – get it here (Taupe) // Save money and get one bronzer for all four seasons (it's even matte!) – get it here // My favourite dusky rose blush  - get it here (Dolce Vita)
A good makeup palette has a range of colour and finishes, the naked palettes are some of the best on the market – get them here and here // My favourite foundation – get it here // Eyeshadow primer is a must when using eyeshadows and eye liners, it makes the makeup stay until you take it off – get it here // A nude lipstick is the only way to go with a smokey eye and once you've tried the YSL lipsticks you'll never want any other – get it here (01 nude beige)
Ps for Norwegians: Bestiller du fra FeelUnique får du refundert toll-/momsutgifter :) Alt du trenger å gjøre er å ta et bilde/kopi av kvitteringen fra postkontoret og sende til FeelUnique (her), så vil de refundere beløpet til kontoen du betalte varene i nettbutikken fra. Veldig enkelt og masse å spare. Det blir som å ta en sminke shoppingtur til London akkurat når du vil det ;)
What do you think of the look?