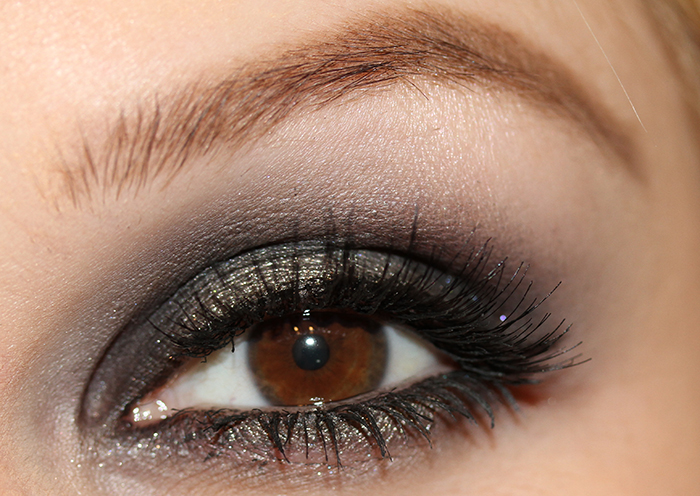 I went to the dentist today and it turns out I have to extract all four wisdom teeth eeek! To get my mind on something else I decided to do a tutorial of a dark, sexy smokey eye with one of my favorite eyeshadows of all time and it´s not even from Mac ;)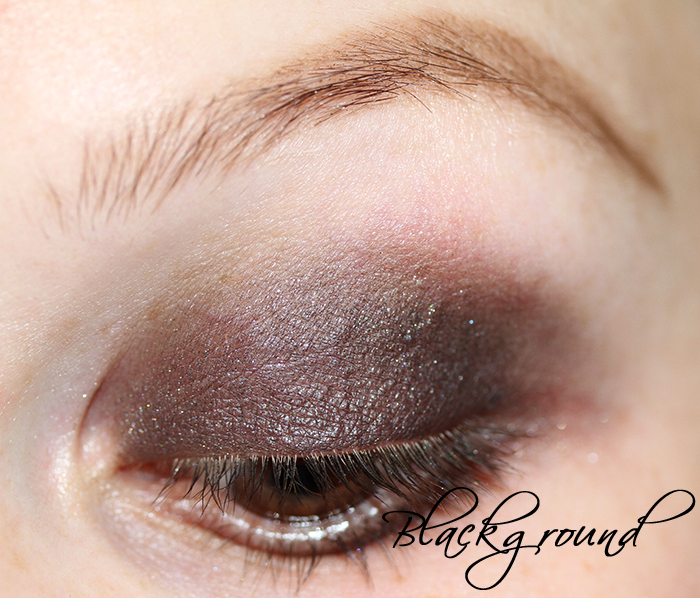 1. Start with a black cream eyeshadow/shadestick on your eyelid and blend out the edges with a clean blending brush. I´ve used Mac Blackground paint pot and blended it out with a Mac 217 brush which is my absolute favorite for blending out outer edges :) If you crease easily underneath your eye you should put a nude cream shadow/ primer there as well.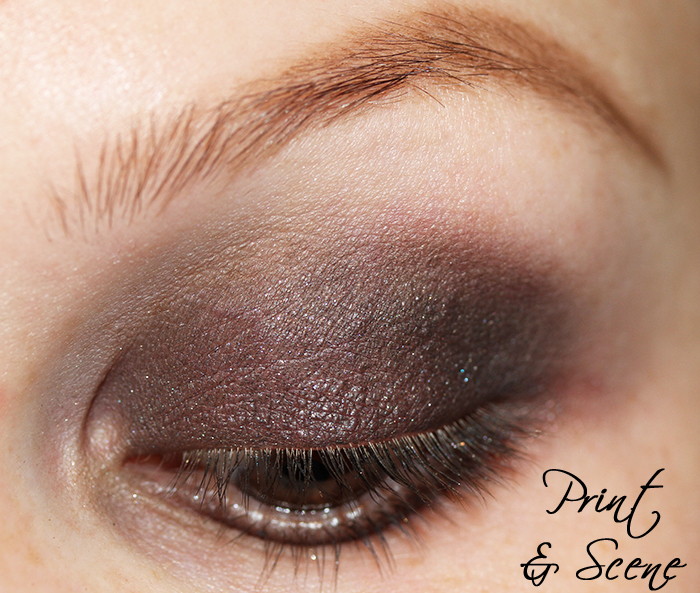 2. Wash on some matte grey eyeshadow around the black shadow so that you get a smokey finish. I used Mac Print closest to the black and then Mac Scene outside Print, but it´s really fine with only one grey eyeshadow, I just couldn´t make my mind up. ;) Put it underneath the eye as well.
3. No dark smokey eye without eyeliner! Grab a black soft eyeliner and line along both the upper and the lower lashline and on the waterline. Blend it out and between the lashes with a small brush. I used Urban Decay 24/7 eyeliner in Zero and smudged it out with a Sigma E-30 (small round brush).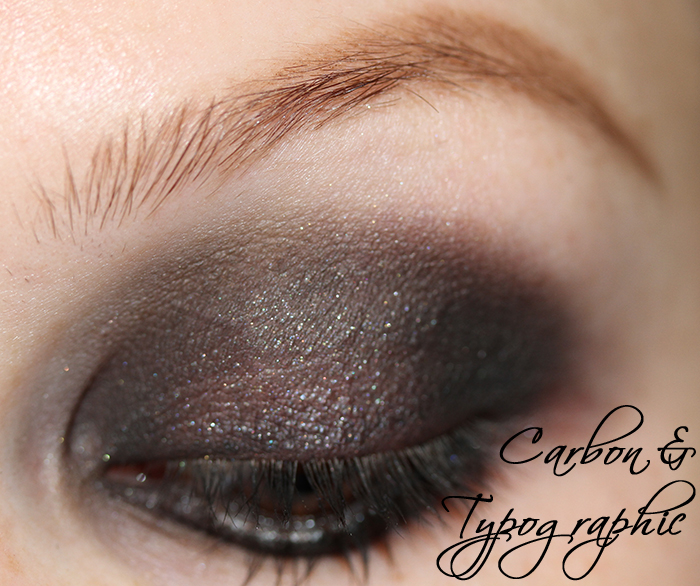 4. Now that we´ve smoked out the eyeliner it´s easier to go in with the black eyeshadow so that we make sure we don´t get too much black and end up with panda eyes. Put the black in the outer corner and inner corner to get some depth, and leave the middle part as it is. I used a Sigma E-45 to apply both Carbon (black) and Typographic (dark tarmac-greyish coloured that blends wonderfully).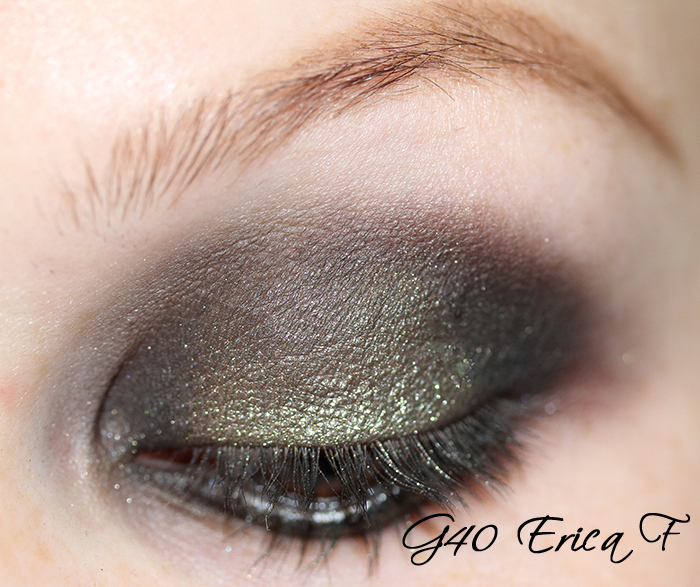 5. Now to the magic of the look. This eyeshadow has been one of my favorites for years because it´s a mix of silver, green and grey – depending on how light hits it – with beautiful shimmer and glitter. It really is the perfect party smokey eye colour for brown eyes, but works well for all the other eye colours as well. The eyeshadow is from Lancôme and is called G40 Erica F. Get some shadow on the brush and tap the brush to get rid of glitter that is in danger of falling down on your cheeks. Dab the brush carefully on the centre of your eye lid, do not stroke it as with other eyeshadows. This techique is great with all glitter eyeshadows that has a tendency to cause fall outs.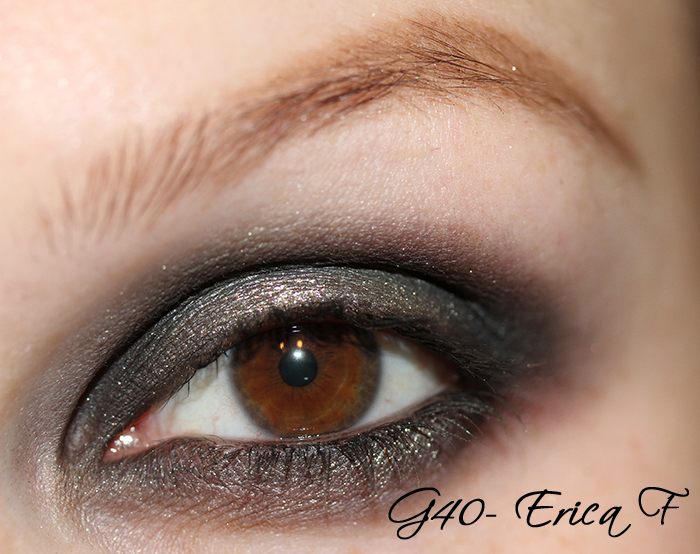 6. Use the same technique to dab on some of the same eyeshadow underneath the eye as well leaving the outer part dark. Brush on a light slightly shimmery eyeshadow on the brow bone to lift the eyebrows. I used a Mac 224 to apply Mac Mylar.

7. Slap on a couple of coats of a volume mascara and you´re done :) Keep lips neutral to dark eyes like this. I´ve used my favorite nude lipstick, Mac Hue.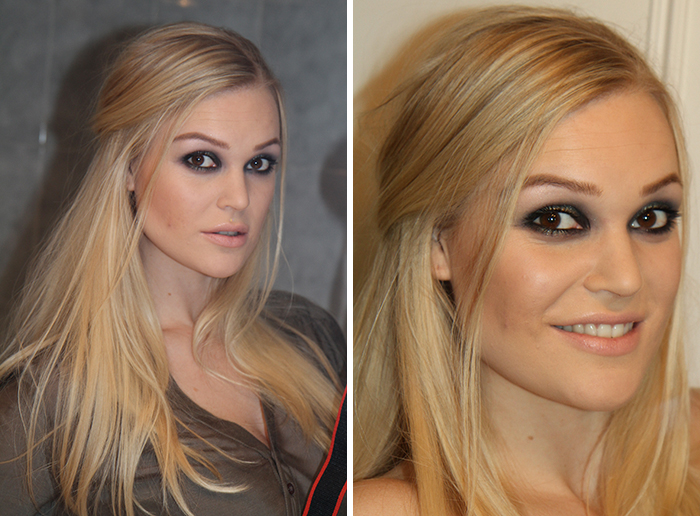 If you are looking for a bit more dramatic look you can put on some falsies and a slightly winged eyeliner…. :wub: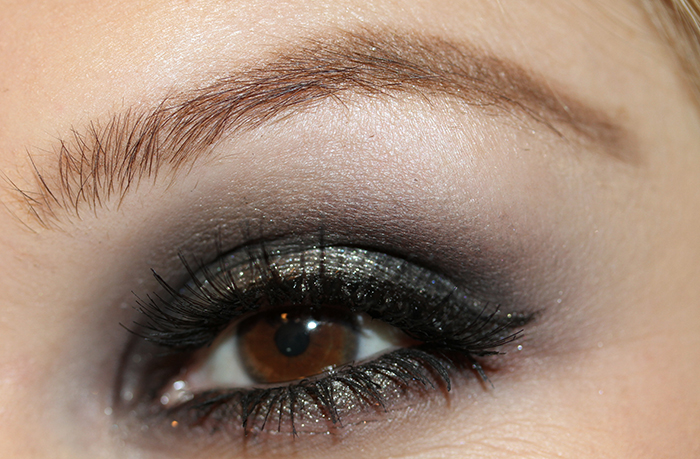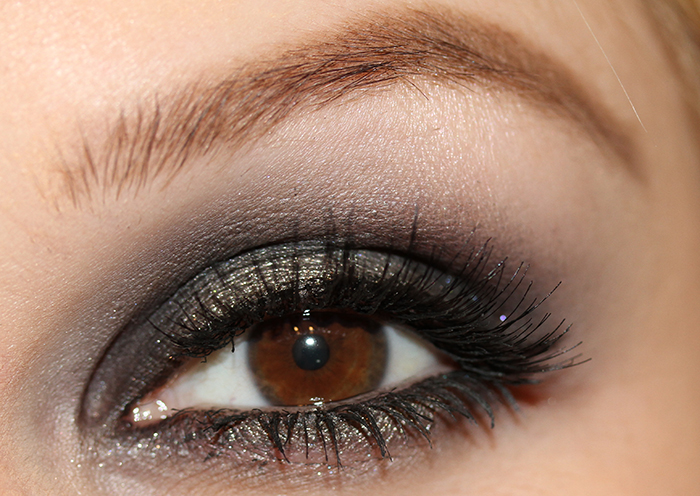 Yes, I know I should have used some UDPP/paint pot underneath my eye as well but since I wasn´t going anywhere I couldn´t be bothered to waste product! I had a couple of hours on the phone to my mum in the process to help her book a ticket. So here you go miss sceptic out there.. it´s lines like these that appear if you don´t use a primer!
Tips for eyeshapes that might benefit of some changes (click here if you want to read more about eyeshapes):
Close set eyes: Instead of putting the dark colour in the inner corner you should place a light coloured shadow instead to widen the eyes. It can also be a good idea to smoke out the outer corner some more to extend the eyes further out. Don´t use a dark eyeliner in the inner corner either.
Hooded eyes: Use a matte silver eyeshadow instead of the glittery one to avoid attention to the fold. If you are young you can try to put some shimmery/glitter colour underneath the eye and in the inner corner if you want to sparkle. ;)
Down turned eyes: Blend the dark shadow up and outwards in the outer corner in a cat eye shape to lift the eyes. You can also try to put some falsies on only the outer part of your upper lashline to life that particular area.
Small eyes: Use a white/nude eyeliner on the waterline instead of a black eyeliner.