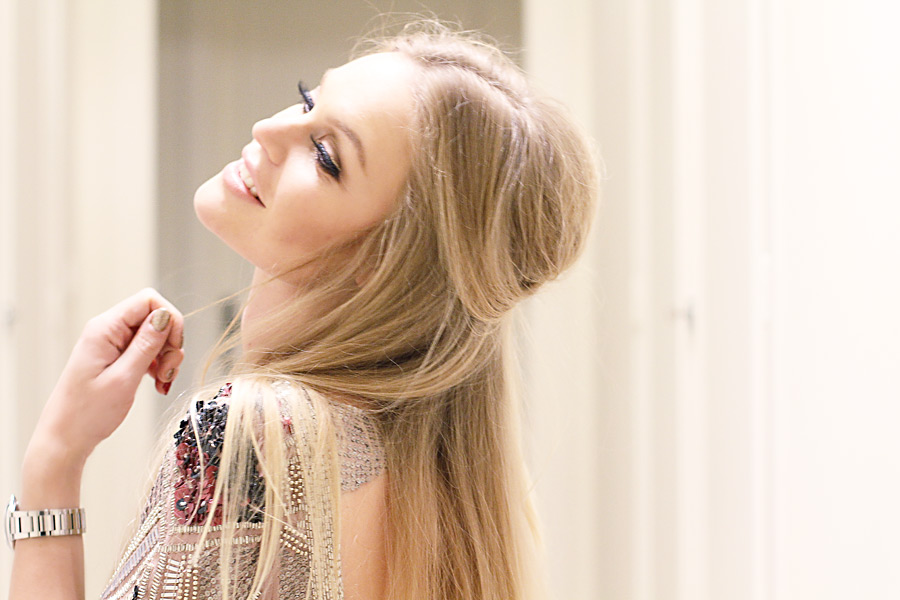 This post is going to be particularly interesting for Norwegians, but bare with me and I'll come to that below. If you've read the blog for a while you know I've been struggeling with acne since I was 19-20 years old, and I've tried everything! All the exclusive skin care products you find in beauty salons and skin clinics, laser, chemical treatments.. you name it, I've done it.
Ironically I think where I have gone wrong in the past is choosing very strong products for acne prone skin which eventually just end up drying out the skin. It's great for breakouts you already have, but it also encourages your healthy skin to produce more sebum which will build up and clog the pore, and that's how an impurity is born. What the skin will actually benefit from is moisture, collagen stimulant and c-vitamins to rebuild the tissue.
The game changer
I've been asked a lot recently if I've changed my skin care routine and what products I'm using, and which products I chose to bring to London. This thrills me as I have indeed changed my skin care routine! I purchased Ole Henriksen Herbal Day Creme just before Christmas to see if there were some truth to the hype around the Ole Henriksen products which I see everywhere I turn like in Vogue, Elle, and all over the internet. To my big surprise my skin cleared up massively within only a few days. Cross my heart, I've never seen results like this from a moisturiser before.
The Ole Henriksen Herbal Day Creme feels wonderful on the skin and contains SPF which protects against both aging UVA rays and burning UVB rays, it also protects against environmental aggressors due to it's high level of antioxidants, and it smells fantastic! My skin loves this!

Get it here: Ole Henriksen Herbal Creme SPF 15 - £31 with free worldwide delivery
The garden lagoon
After I saw the amazing result with the Ole Henriksen Herbal Day Creme (and I already got feedback from you guys without you even knowing I had changed my routine) I got the award winning Ole Henriksen African tea foaming cleanse and Ole Henriksen Truth Serum Collagen Booster. Not only does this range clear up my skin, but I can finally fight signs of aging at the same time, what a treat!
The first thing to mention about Ole Henriksen African tea foaming cleanse is the extraordinary smell. It smells what I imagine a summer walk in a fruit garden with soft pillows and balloons thrown around would smell like. The cleanser is enriched with anti-aging botanical extracts like naturally antioxidant-rich african red tea and Vitamin C. Its soothing, non-drying formula is strong enough to remove makeup, but gentle enough for even the most sensitive skin like mine. Did I mention it smells divine?
Ole Henriksen African Red Tea Foaming Cleanser - £26 with free worldwide delivery
The Truth
Serums are often mistaken as a luxury and not a neccessity in skin care, but believe me, Ole Henriksen Truth Serum Collagen Booster is a must have. It contains Vitamin C, also known as ascorbic acid, which is key to the production of collagen, a protein that aids in the growth of cells and blood vessels and gives skin its firmness and strength [source: WebMD]. Vitamin C also helps create scar tissue and ligaments, and it helps your skin repair itself [source: Milton S. Hershey Medical Center]. It is also loaded with antioxidants to fight off environmental aggressors, and moisture-binding ingredients to keep your skin nourished and protected. It's absorbed instantly and penetrates to the deeper layers of the skin, but can make the skin feel a bit sticky so be sure to have a moisturiser as well as this isn't enough on its own. Sensitive skin prone to irritation will benefit immensely from the calming properties of this oil-free serum, trust me – it's the TRUTH (serum)! :D
Ole Henriksen Truth Serum Collagen Booster - £47 with free worldwide delivery
All Mr. Henriksen's products are natural, not tested on animals and free of nasty parabens. Celebrities love them and apparently there is indeed truth to the hype – I'm completely sold and can't wait to expand my skin care range!
Special offer not to be missed:
Buy any Ole Henriksen products for £50 or more & use TRUTHVIP at the checkout and you get a free full 30 ml deluxe bottle of Truth Serum Collagen Booster worth £47!!! How amazing is that?? Offer ends 28th Feb.
In other words, if you buy the Ole Henriksen Herbal Creme SPF 15 and Ole Henriksen African Red Tea Foaming Cleanser you will get the serum for free, a total cost of £57 instead of £104 for all three products!! That makes a massive difference! I will definitely take advantage of this offer as I would love to stock up on this serum and expand my skin care range. Next on my list is night cream, eye cream, mask, peel, scrub, and toner – I'm going to build my very own little Ole Henriksen home spa :D
Get a tax refund!
For deliveries into Europe, in the rare event that you are charged import duty (like in Norway), feelunique.com will provide a refund provided they are notified within 30 days of despatch. Should you wish to claim a refund, click here and fill out the form and attach photos/scanned images of the customs receipt.