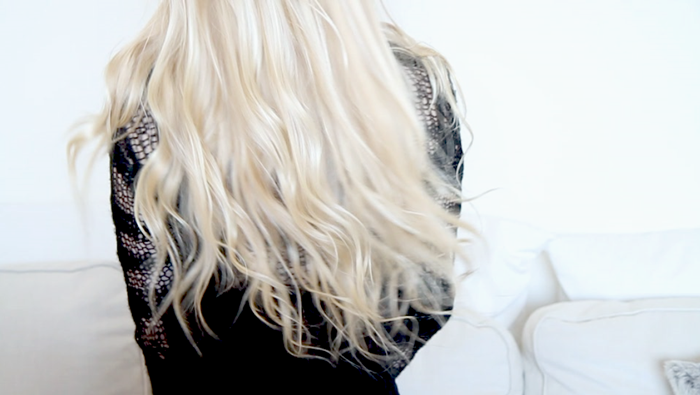 Many of you have been curious about my extensions recently, and as I know how frustrating it can be to find good quality hair extensions in the jungle of options out there I thought I'd share my secrets with you. Fortunately for you, I have tried and failed a few times for all of us so that you don't have to :) Now I know what to look for, and yet better, I know where you can get the best hair!!
About Locks&Bonds
1. What makes Locks&Bonds better than other brands?
In the past I've bought hair from lots of different brands who all claimed that they had "Remy quality hair", which I fell for because it was quite cheap and seemed like a good deal (Rapunzel, Sara's, American Dream Extensions etc). It was very disappointing when I washed the hair and it became all tangled and dry and I just had to throw it away after only once or twice of wear.
So, where do I get my hair from now and how is it different?
I have now curled, brushed, washed, straightened and partied (read champagne showers) with my hair from Locks&Bonds a number of times, and it's still in the exact same soft state as when I got it!! This means I've finally found real Remy hair.
2. What does Remy hair really mean?
Remy Hair means that the hair is cut from the donor in one heavy ponytail, with the cuticle facing in the same direction. Inexpensive extensions are made from hair collected facing in all directions from many different donors (even from hairbrushes) so that the cuticle has to be removed in damaging acid baths, then covered in silicone so that the hair seems smooth.
However, after the first few washings, the remaining cuticles will rise as the silicone is washed off and hopeless dry tangling sets in because the cuticles act like little fish hooks hooking with the cuticles facing the opposite direction. Unfortunately brands lie about having Remy hair all the time, which is why it's extremely difficult to find hair that actually is real Remy hair.
3. What kind of Remy hair does L&B use?
Not only do you have to worry about getting real Remy hair, but getting the right thickness of the hair is also key. Normally hair extensions are 0,5 grams per strand, but Locks&Bonds' hair is 0,8 grams meaning it's thicker along the whole strand which is what will give your hair that full and realistic look. I'm sure you've seen someone wear extensions where the ends of the hair is so thin that you can practically count the strands of hair, not pretty. With the hair from L&B you get fuller and more volumous hair, and it's up tp you how long you want it. You have got to love that!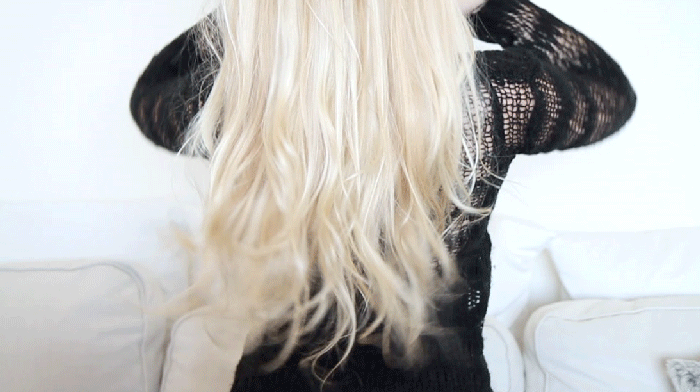 What kind of hair extensions do they offer?
1. Clip ins
I use clip ins which is convenient for me as I like to sleep without anything in the way, and still have long and beautiful hair in the day or just when I feel like it. L&B offer two different packs of clip ins, I chose the full set one with an additional quad clip (180g). In the past I've found that I've needed two packs to get it as fullness I desire, but with L&B I foind that one pack is actually enough for me. The hair is 56cm long, which is a little bit longer than mine, but it blends in perfectly once it's curled. I have the colour #60/613/16 which is blonde with both highlights and lowlights (perfect for natural blondes).
I wash the hair in the sink with babyshampoo followed by treatments like this, this and this.
2. Micro rings
Micro rings is a permanent solution meaning once it's in you don't have to worry about it. It becomes your hair. You have more freedom when it comes to finding the right colour as you can mix and match with four different colours. This is a better option if you want long hair all the time, but be aware that they may damage your hair slightly more than clip ins. There are however several types of micro rings so that you can chose the ones that is right for your hair which in turn will decrease the damage on your hair if treated properly. YouTube has lots of videoes on how to attach them, I know many girls who do it themselves but you can also go to a hairdresser if you don't want to be bothered with it.
The three different micro rings:
Screw Micro Rings:
Screw threading in inside to keep them from slipping
Smaller than silicone micro rings and tubes
Silicone Micro Rings:
Silicone lining on inside of ring to protect fragil or over-processed and damaged hair. Silicone is very gentle on your own hair as it acts like a cushion between your own hair and ring
Good for hair prone to breakage
Copper Micro Tubes:
Copper is softer, easier to clamp shut
Clamps flatter than all other rings
Softer metal is more comfortable if you have a sensitive scalp
Longer length keeps them from slipping
Can be crimped for even more hold. (crimping means folding the tube in half lengthwise for double hold, also called making "books" To 'crimp" tubes, you need a plier with a notch and a removal tool with long "fangs" to open the books again. They can not be re-opened with pliers.)
Just so you know, I bought my hair for my own money and I wouldn't recommend anything I didn't truly believe in. It's my honest and sincere opinion as always.
Go to Locks&Bonds to get your fabulous hair!!
I hope you found that helpful, please don't hesitate to leave questions if there is anything else you have questions about. I would be happy to help :D