Reviews/Swatches
- Your skin but better.
I got this when I was in London because I wanted to try some drugstore products and chose this amongst other because of having read great reviews of it in the past. The first time I tried it I was quite surprised by how healthy it made my skin look. It's not thick or cakey, not shimmery, not oily.. it's simply your skin but better. What I didn't like as much was the smell, a very artificial fruity scent.
I kept using it thinking I had found my HG foundation and was just about to write a review about it when I started to notice little bumps in my skin. I have suffered from acne in the past so I'm very particular on what I use in my face, and pay close attention whenever I try out something new. Because I liked this so much I wanted to think it was the liquorice I ate that made my skin break out and kept using it for a little while longer, but my skin only got worse.
Now that I have stopped using it I can see that my skin looks better, but I still have a lot of break outs left to deal with because of it. I've read lots of reviews from people that haven't had their skin break out so I guess it contains something that only certain people react to.
So, my conviction is that it's the perfect finish of a foundation, but if your skin is acne-prone you should stay away as it might break you out like it did to me.
Have you tried this foundation? What's your favorite?
Now that James is out travelling I don't get in quite the same comfort zone in the evenings as I normally do, and therefore I find my self constantly pacing around the apartment as if I was looking for something. Tonight I came across a very nicely smelling pink little thing – a bubble bath bar, and in this very moment it just hit me that I haven't had one single bath since we moved to our new flat.
Coincidentally, the name of the bath bar is "The Comforter" created to give you that extra special "softly wrapped in a blanket"- feeling infused with a very girly candy like berry scent which calms your senses whilst the essential oils do their moisturising magic for the skin. Perfect!!
Are you ready for the best part? It turns your steamy hot water PINK with lots of bubbles!!! We don't ever get too old for bubbles do we? Weeeee :D Btw, you really don't need more than 1/4 of the bar for your bath so one bar lasts for at least 4 baths! You are ment to crumble it up under the running water, but I recommend crumble it up in a small cup of very hot water to make sure everything dissolves and then pour this into the running water to create lots of bubbles.
As soo as the tub was filled I quickly slapped on a facial mask and slid down in my relaxing pink bubbly Nirvana where I stayed untill I dragged my self into bed.
I hope you've all had a lovely day! I'm so sleepy after this wonderful bath that I'm not even sure if I'll manage to read nor watch a tv-serie. I'm THAT sleepy, guys. Hopefully this means I'll wake up early to a day with just as much sunshine tomorrow! :D Good night, girls xx
I got a question in the comment section asking if I could do an update on my Mac palettes so here they are. I've highlighted my favorites with PINK :)
MATTE BROWNS, GREYS AND BLACKS
Top row: Soft Brown // Swiss Chocolate // Indie Spirit // Brown Down // Kid
Second row: Cork // Espresso // Handwritten // Mystery // Brun
Botyom row:  Copperplate // Scene // Print // Typographic // Carbon
HIGHLIGHTS
Top row: Gesso // Mylar // Blanc Type // Brule // *empty space*
Second row: Vanilla // Shroom // Dazzle Light // Nylon // Ricepaper
Bottom row: Vex // Jest // Naked Lunch // *empty space* // *empty space*
SPARKLY BROWNS; GOLDS AND REDS
Top row: All That Glitters // Patina // Amber Lights // Bronze // Tempting
Second row: Expensive Pink // Antiqued // Mulch // Red Brick // Mythology
Bottom row: Coppering // Cranberry // Raving Mad // Twinks // Twinks ( I forgot I had it and bought another one)
PINKS AND PURPLES
Top row: Medallions // Vintage Bloom // Dressing Room // Vibrant Grape // Fig 1
Second row: Look at the eyes // Beautiful Iris // Parfait Amour // Purple Haze // Nocturnelle
Bottom row: Trax // Beauty Marked // Paradisco // Satellite Dreams // Shadowy Lady
THOSE WHICH DON'T YET HAVE A HOME
Top row: Melt My Heart // Knight Divine // *empty space* // *empty space* //*empty space*
Second row: Performance Art // Smoke & Diamonds // *empty space* // *empty space* // *empty space*
Bottom row: Woodwinked //*empty space* // *empty space* // *empty space* // *empty space*
GREENS AND BLUES
Top row: Yellow Chrome// Lucky Green // Lucky Green (oops) // Swimming // Humid
Second row: Bows & Curtseys // Steamy // Green Room // Fresh Wtaer // Contrast
Bottom row: Club // Green Smoke // Sumptuous Olive // *empty space* // *empty space*
The palette on the left: Sweet Eyes (nude) // Young Thing (pink) // Amourously (brown) // Awaken (green) // In Awe (black)// Fall Deeply (blue)
The palette other palette: Manila Paper // Valient // Diana Undercover // Spinning Transformation
Singles: Coquette // Omega ( I use these two for my eyebrows)
I hope you found this helpfull on your own journey to gather together these pretty eyeshadows.
Norwegians: Du kan nå bestille øyeskygger (og annen sminke) fra Mac på Britique.com som har gratis frakt til Norge.
I mentioned to you the other day how my hair has grown faster than ever and I gave all credits to the fact that I have switched hair products from Kerastase to natural and safe ingredients brands like Alexander Sprekenhus and Moroccan Oil.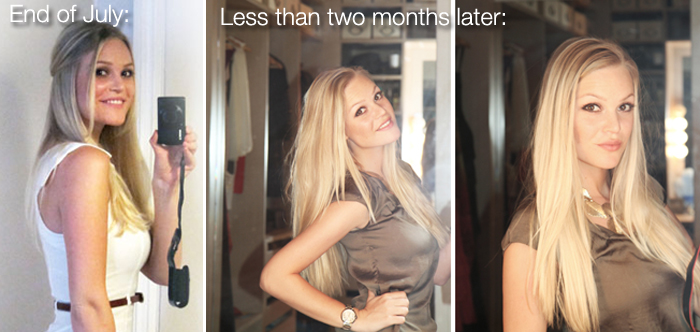 The reason to why I bring this up once more is that I completely forgot to mention a product I've been using which might be a big part of my results. This is the John Masters Organics Deep Scalp Follicle Tretment & Volumizer For Thinning Hair. I got this because I was looking for a plain volumizing product that didn't contain any harmful ingredients and didn't leave much thought to the part where it claims "A leave in solution that helps to promote healthy growth by improving the condition of your scalp." as I have never before seen any true results from fast growth products like that. So when I picked up this product this morning it suddenly hit me that this little bottle probably have done more than I thought it had…
Could it really be that this together with organic shampoo and conditioner promotes hair growth? Yes, I'm impressed! The best part is that it's really inexpensive, a little goes a long way and it´s super easy to use. After I've washed my hair I apply Alexander Sprekenhus One Day Straightener (heat protectant) to the hair and follow up with spraying John Masters Organics into my roots and gently massage it in. When your hair has dried you can't feel it at all which is a big plus for me (and the boyfriend) as I hate having sticky hair that I can't slide my fingers through.
Review: 10/10
I bought mine at LookFantastic for £21.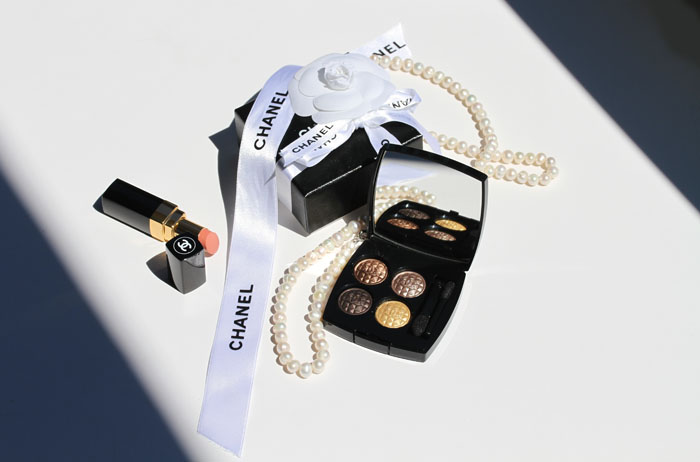 I am such a sucker for Chanel and I'm not even going to try to justify this purchase because £30 (and that is duty free) for an eyeshadow quad I'm never going to touch is just ridiculous. Yes, I said never going to touch. After some years of obsessive collecting of Chanel quads I've found that these quads from Chanel have become more like a work of art to me than actual makeup. I have some limited edition quads I really wish I had never touched as they are so unbelievably beautiful in the case but not always as good on the eye lid as other brands like Mac, Urban Decay ++. After seeing Lisa Eldridge's video about vintage makeup I was so happy as I realized that I'm not the only one with this absurd habit of collecting beautiful makeup! :)
httpv://www.youtube.com/watch?v=uBoeMo8ojPc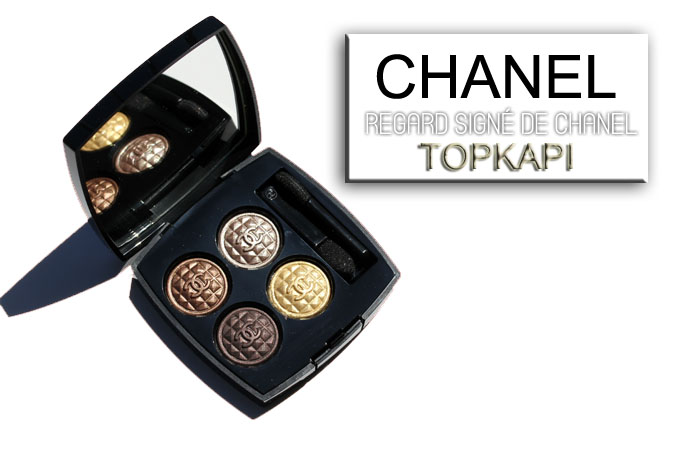 The Rouge Coco Shine lipstick in #48 Évasion I got from a very sweet friend who called my boyfriend to ask if there was anything he knew I wanted from the airport as he is well aware of my stupid makeup addiction. Surprisingly, as I thought all my ramblinsg about makeup went straight over James's head, he remembered that I mentioned something about a lipstick from Chanel which I also wrote about in the review of my other two Rouge Coco Shine lipsticks. I suspect he took a quick look at the blog to see if I had mentioned anything, but I still gave him brownie points for that one!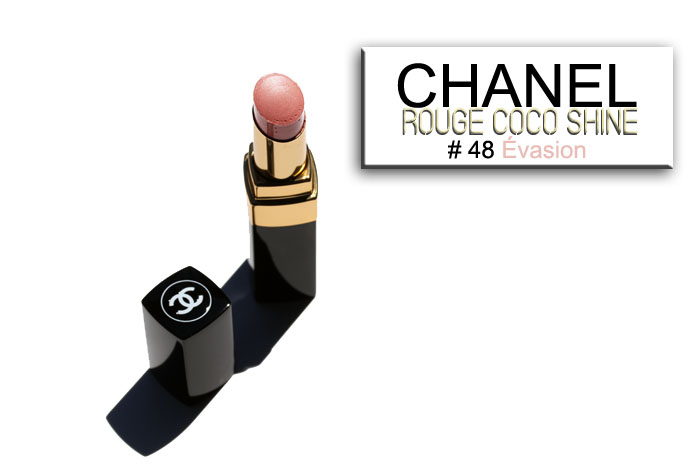 While the two other lipsticks are in the bright pink-family, Évasion is more of a pinky-nude colour. It is such a gorgous colour for smokey eyes and I can't wait to wear it so instead of doing boring swatches I'll show it to you in a makeup look so that you get a better understanding of what it really looks like ;)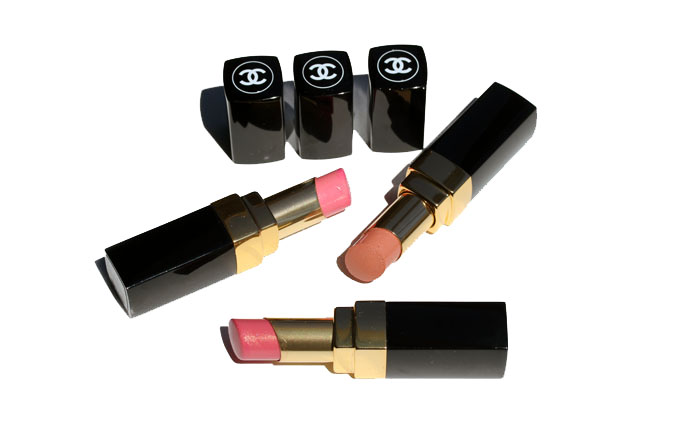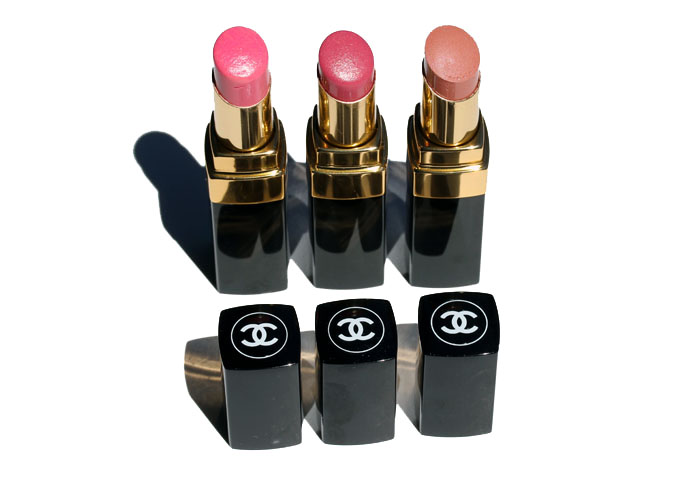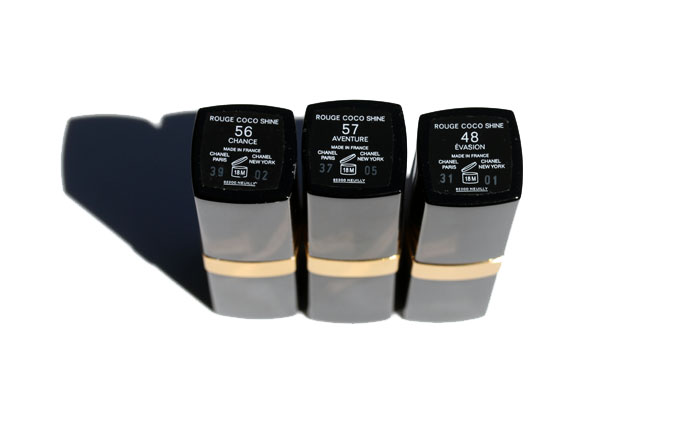 I bet a lot of you thought Mac Cosmetics was my favorite makeup brand, and in terms of quality of eyeshadows it definitely is, but Chanel has a special place in my makeup drawers! I think Chanel does the best lip products, really good foundations and powders, and pretty good mascaras as well. When it comes to packaging they are second to none and who doesn't appreciate a bit of luxury in everyday life?
Which make up brand is your favorite? 
On my way to Norway I came across these beauties from Chanel. There were four shades that seemed interesting, Boy, Chance, Evasion and Aventure, I chose Chance and Aventure. My mom even asked me if I had done something with my lips so when I told her it was just a lipstick she was all over it!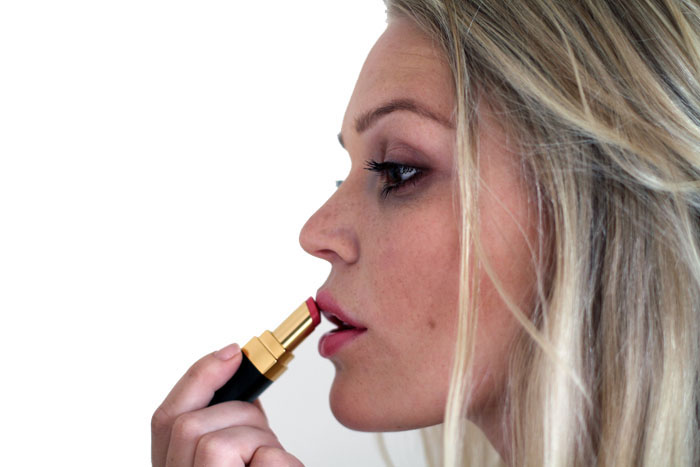 Chanel says: "ROUGE COCO SHINE Hydrating Sheer Lipshine provides lasting moisturizing shine in a water-light texture. The formula glides on for easy application, and a unique HYDRATENDRE complex hydrates and softens lips, giving them a healthier and fuller appearance. Available in a complete range of shades, from delicate beiges to dazzling berries, with a hint of shimmer to enhance a glossy finish." – and a fuller appearance I did indeed get :)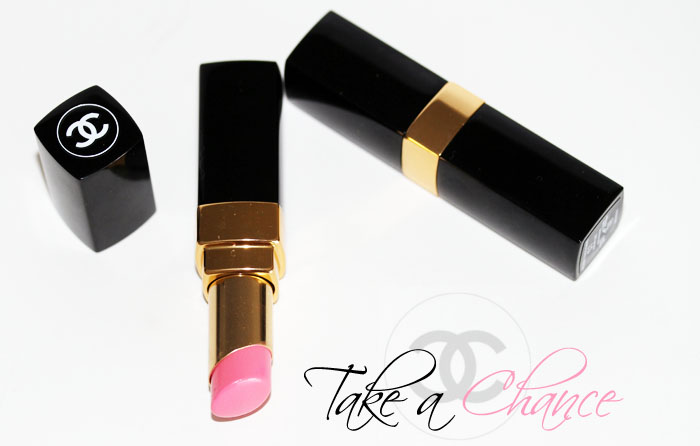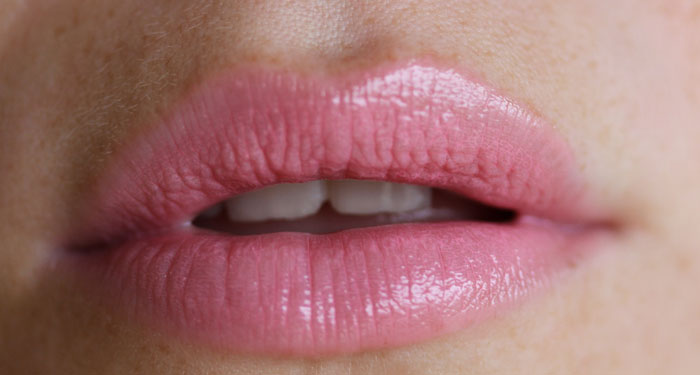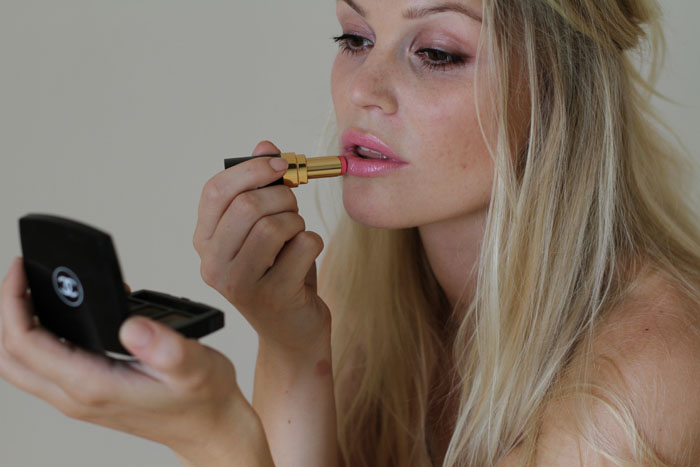 I would describe the shade as a milky pale girly pink with a cold undertone. If layered once you'll get a nice wash of shiny colour whilst if you layer it again you'll get a brighter pink. It is the kind of pink that goes well with big sunglasses, volumized hair and a nice pair of shoes and suits younger girls, a babe colour if you like ;) It's not the normal colour I'd wear, and I actually don't own anything else like it, but I really love it for the summer!!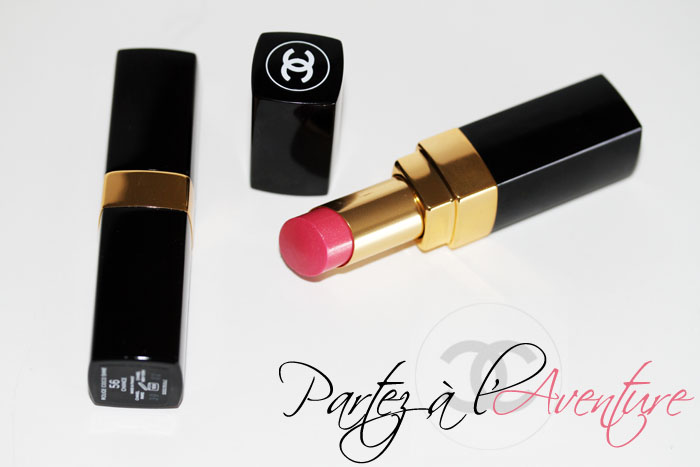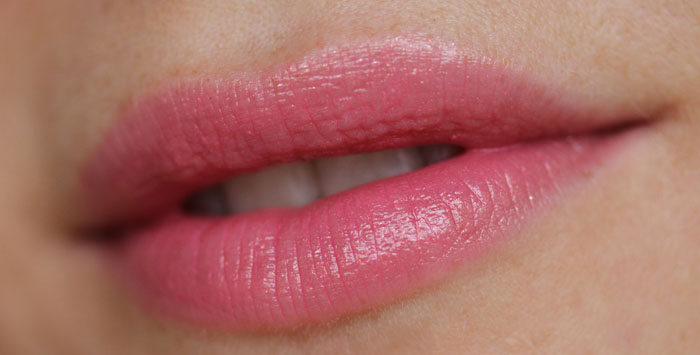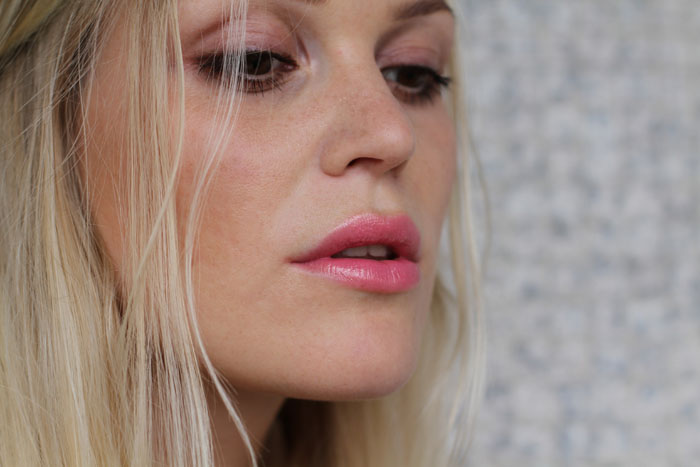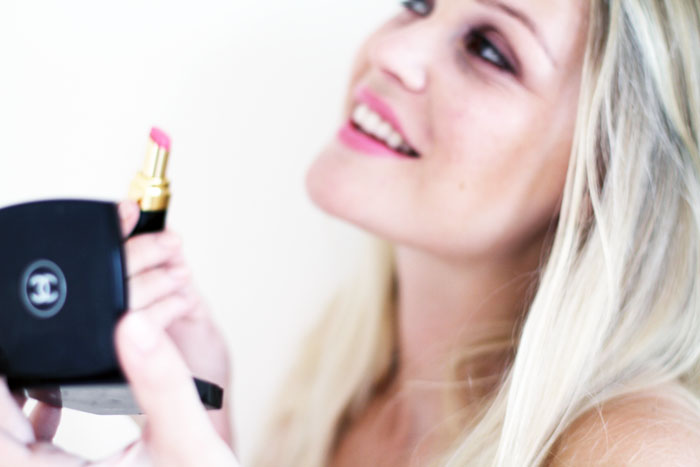 Aventure is a smidgen darker in a warmer undertone with gold sparkle. A really beautiful pink colour which I think I might be using all year round!
As for the consistency I think it's very moisturising and lip plumping, the colour is pretty long wearing as well – I just wish the gloss would stay longer than it does. After about two hours you need to reapply, personally I'm not particularly troubled by this as the packaging is so beautiful that it makes me incredibly happy to hold it in my hand now and then ;)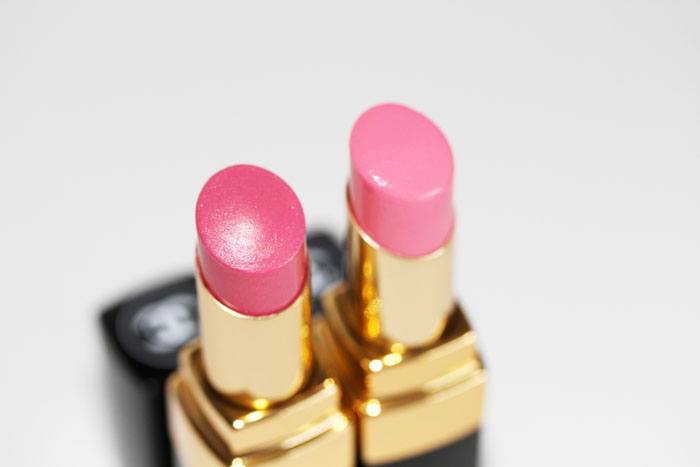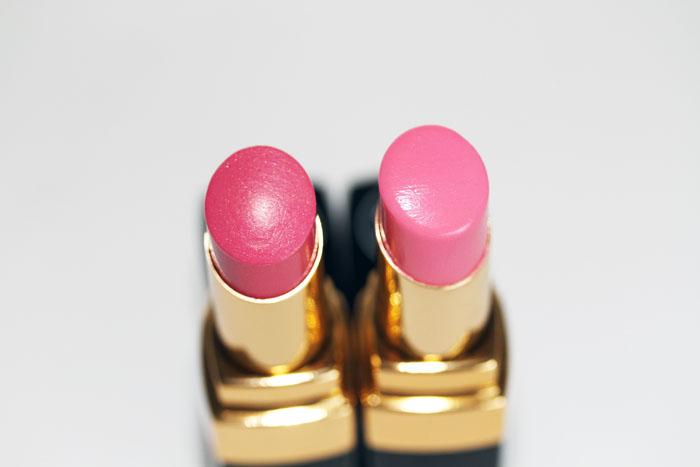 I bought them for €32 each :)
Which one is your favourite and do you have a Rouge Coco lipstick?
I love the new Chanel LE Summer collection of 2011!! The products I've got from the collection are the three nail polishes 567 Beige Pétale, 557 Morning Rose and 577 Mimosa and the beautiful eyeshadow quad 32 Lilium.
567 Beige Pétale:
557 Morning Rose:
577 Mimosa:
32 Lilium:
What do you think about the summer collection, have you got anything from it or what are you lusting for?
What a great colour for spring and summer! I've used three coats on the picture above but I reckon it's enough with two, I just slapped it on the first time and had to go back and fix it which is why I needed a third coat, I simply lack the patience to sit and wait for my nail polish to dry. Orange Fizz is by Chanel and can be found anywhere Chanel polishes are sold like in Sephora.