For some reason I don't go shopping in Monaco very often, I guess it's because we are in London so often where there are so many more shops even though that doesn't neccessarily mean better shops. I think there are some shops in Monaco that are really great, but perhaps a bit on the expensive side.
As you already know a friend and I were going to check out dance classes, but they were closed so we went for a stroll which quickly became one of the best shopping experiences I've ever had in Monaco. Firstly because K11, which is a very new concept store in Monaco, had some super cool handbags that I just couldn't resist. I've been there once before but I went with James and it's just not the same going shopping with the boyfriend, you know ;) As very many other fashionistas, I too love the spring/summer collection of Zara so a quick pop in at Zara was mandatory.
I found a beautiful maxi skirt, two shorter skirts, a shorts, a pair of jeans, a belt and a blouse. I'm sure they will all pop up in ootd soon :)
My Best finds of the day?
Definitely these:
The "Birkin bag" is made of cotton fabric with real leather pieces from the Hermes Birkin stuck on each side. LOVE! How fun is this for the beach? :D
I don't think I will be buying a real Birkin anytime soon, although it's definitely on my "have-to-buy-before-I-die list". My friend who I went shopping with actually just got herself a Birkin. Jealous? Me? MASSIVELY! I found myself constantly drooling like a boxer next to her.. Sigh, one day.
I might be even more in love with this cutie. A baby pink Chanel 2.55 in rubber :D Fashionable on jet skiis, anyone?
Speaking of Chanel handbags, another of my friend's chihuahua, Tilla (she's Mexican.. so her name is Tortilla but her nick name is Tilla, cute right?), were feeling car sick and ended up throwing up in my friend's completely new Chanel. Oh my, thank goodness chihuahuas don't have the capacity to do very much damage. Maybe a rubber Chanel next time? :D
On our way home we popped into a shop I always tell my self I have to swing by whenever I have time, and for some reason even though time is what I have more of than anything else I still haven't been there until yesterday. And I'm so happy I went, because I found the coolest and most beautiful maxi skirt I've ever seen in my entire life!!! The quality is amazing and the colour is such a special neonish coral!! Plus, they offered candy in the shop.. weee ;D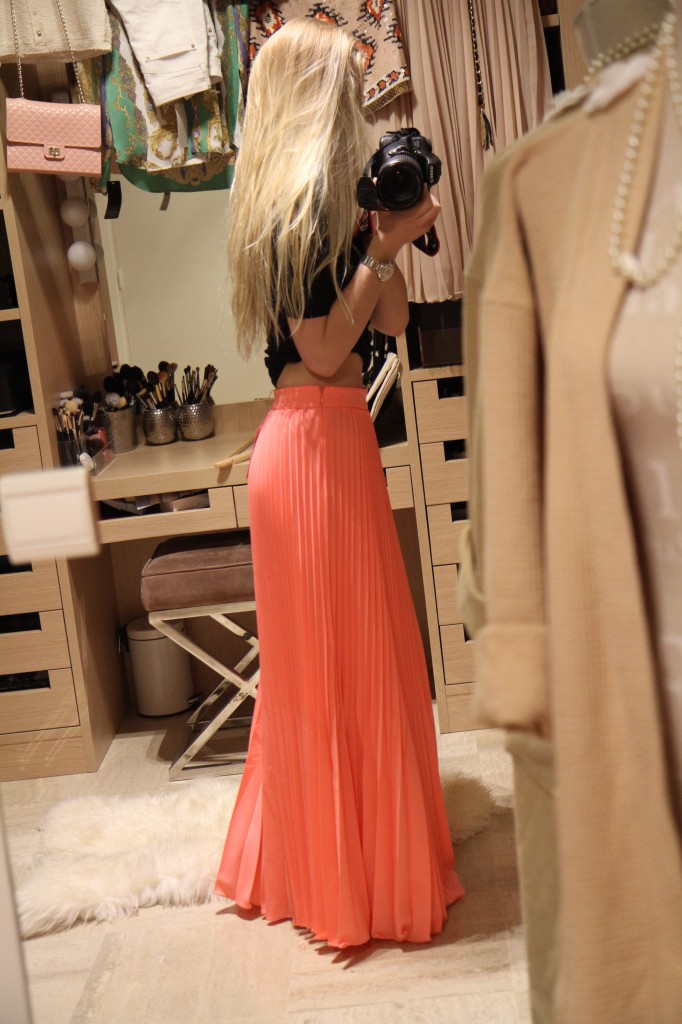 Skirt by Manoush, I can't wait to wear it!!! :D
So, yes.. that was my shopping spree this week. I do have a few items on their way to me in the mail though, very exciting!! :)