Hi everyone!
First of all, thank you so much for all your wonderful comments on the previous post. You really are the best readers and if it wasn't for you I would never have this blog! ❤
Today has been a wonderful day so far, the rays of sunshine have been really good for us! As I walked around the streets today with sunshine in my face, a good warm and comforting hand holding mine and a view of the deep blue sea for as far as the eye can see I realised how incredibly fortunate we are to be able to come to Monaco whenever we feel like it. Don't get me wrong, I was thrilled about it when we got our second home in London and we talked about how we would jump back and forth, but I don't think it's really sunk in until now as it's just felt so unreal. But NOW, 2 months later when my feet are back on Monegasque ground, my brain finally gets it he he..
Anyway, here are some snapshots of my day through Instagram: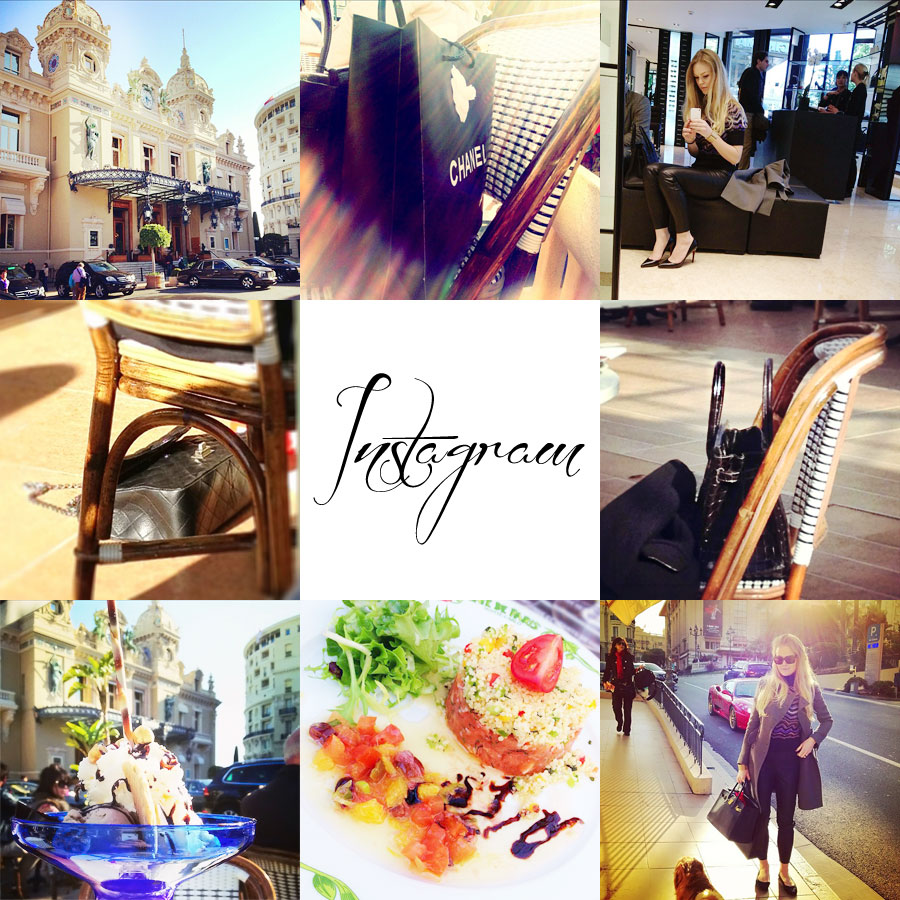 We had a chilled morning enjoying being back in our much loved bed, and then we went for a little shopping around the Casino gardens where I picked up a little something from Chanel (which I'll show you later). We then sat down at the Cafe de Paris for lunch which is located opposite Hotel de Paris. Apparently they're redoing Hotel de Paris completely as soon as the Grand Prix is over. I've seen some pictures and it's going to be amazing with an open roof in the middle. It's estimated to be finished in about 4 years time.
But back to Cafe de Paris. Cafe de Paris is a must visit when you're in Monaco as you get a wonderful view of the Casino where the male(s) in your company can drool over cars and you (and other females in your company) can drool over amazing outfits and handbags walking around. I have no idea what cars went by, but I spotted my dream bag of all time on the table next to me – a black Hermès Birkin in crocodile. By the table on the other side I spotted a Chanel handbag thrown on the floor and I can't help but think that the bag deserves to be with someone else that knows how to treat it, right? :/
We finished off with one of the Cafe de Paris signature giant ice creams and strolled back home. As you can see I did a quick shoe swap on the way back despite it's only five minutes home from the Casino, but why suffer when it's so easy to swap shoes when you can hide little Yosies in the bag? A must have for any heel obsessed girl, you can read more about them here. Proper outfit pictures will come as soon as I've edited them :D
Now we're going to chill in front of the tv for a little while and then we'll see where we end up tonight! Hope you've enjoyed your day just as much as I have, sweetest readers!! xx