It was love at first sight. Instantly butterflies in my tummy. I just couldn't take my eyes off. My eyes were feasting as they were moving up and down and around, slowly taking in every detail while holding my breath. Such perfection! There was really no choice in the matter, this perfect thing had to be mine!
And here it is, sitting right in front of me, looking absolutely ravishing. The beautiful Butterfly Stool designed by Sori Yanagi from Japan, in 1954. If you follow me on Instagram you will know I also got another slightly taller wooden stool first. And since then I also got a couple of cube side tables, also in wood. The cubes were initially intended for the balcony, but they fit so nicely in the lounge. The little one is now baby B's side table, next to his chair. LOVE! He is already walking while holding onto the table and sofa, and I'm thinking all these little stools will be so much fun for him once he lets go and starts walking from A to B.
For those of you who are not following me on Instagram (you should add me, @bycelina), this is my new home in Norway since last we spoke.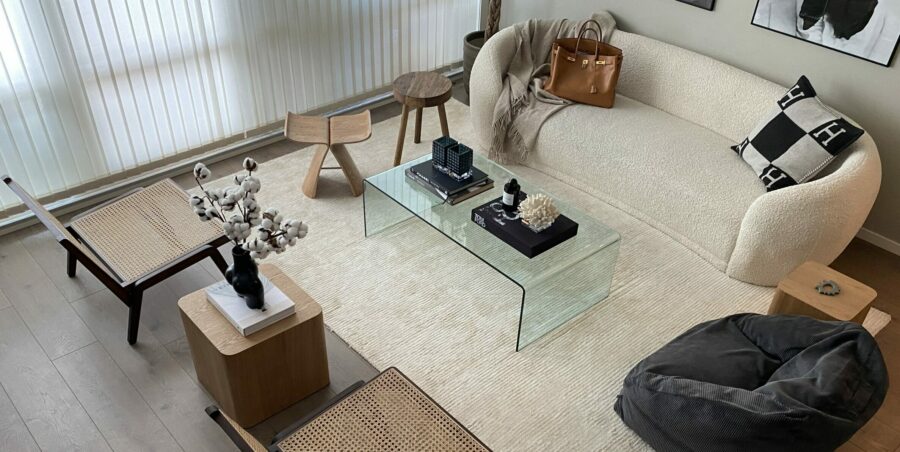 Sofa here // Rug here // Table old, but similar here // Baby Sofa Chair here // Side Tables here // Chairs here // Butterfly Stool here // Stool here
Stools and small side tables is my thing now. Such small pieces of furniture, yet such a big impact. It's an "once you see it, you can't unsee it" type of thing for me. Here is some of my inspiration with stools..
See, stools are a mysterious necessity! They are that little piece that makes a "nice room" into an "interesting room with flow". By flow I mean, there is life and a story unfolding in the room, a sense of authenticity. It's not static and made up for the sole purpose of looking good. Like, what is it used for? Does it have a spot where it belongs, or is it moved around? Does someone sit on it sometimes, or is it mainly used as a table? What occasions sparks the need for it to be picked up and moved to be utilized, as other furniture simply won't do?
I particularly love it as a side table.. by the bed, by the bath or in the lounge. Also love placing a huge pot on top with a flowering branch reaching out. It's a very versatile piece of furniture and perfect for someone who likes to rearrange furniture, like yours truly. Whilst tidying gives me peace of mind, rearranging furniture sparks creativity for me and gives sort of a novel feel.
I have gathered some favourite stools below of all price ranges.
Stool 1 here // Stool 2 here // Stool 3 here // Stool 4 here // Stools 5 here
Stool 6 here // Stool 7 here // Stool 8 here // Stool 9 here // Stool 10 here
*some of these links are affiliate links
What are your thoughts on stools? Do you have one, or perhaps more than one? If so, what do you use it/them for the most?
I wish you a wonderful Friday! x